Proposal: Temporary Services
Temporary is closing on 1 September 2017. No further experiments will be scheduled, though you can still pledge Temps as supported experiments may form a starting programme for the post-Temporary project.
Description:
'Temporary Services' is a monthly, day long event where members of the Temporary community can open up the space to offer their variety of skills. Services will be exchanged for money which will go towards making Temporary a sustainable space with no need for outside funding.
Participants should volunteer their time and skills, as much as possible, to offering a service at the space with a defined cost and also promoting the event within their network. Services can be according to whatever skills participants have, which could be (but are not limited to): meals, massage, haircuts, repair, fortune telling, nail treatments, tattooing, psychoanalysis, private lessons/tutoring, caricatures, proofreading and more.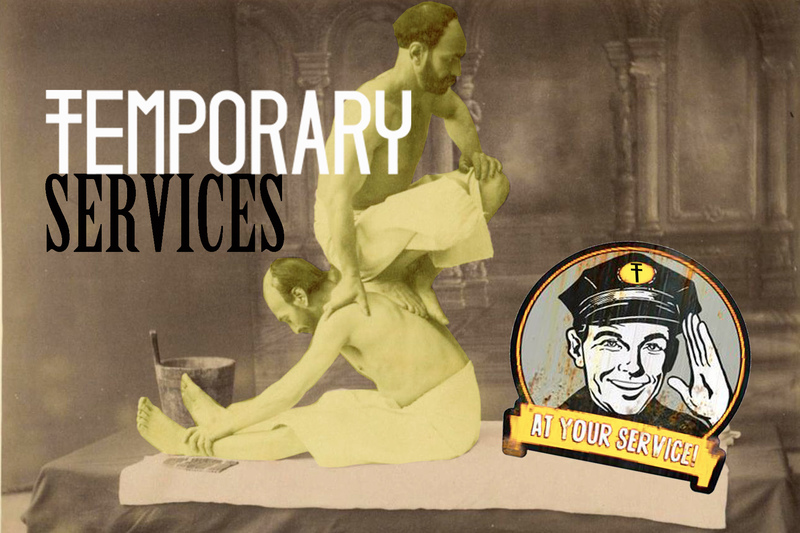 Goals:
The goal of this experiment is to create a pool of skills(amateur/expert) among people who frequent Temporary which can be volunteered for the space in order to test out an alternative format for funding Temporary outside of institutional sources.
Timeframe:
Once, on the last weekend of every month.
How often will this happend?:
Happens regularly
Intended participants:
People who have skills to pay the bills...and their friends.
This proposal is now archived and can no longer be edited or commented on.
This proposal became the experiment
Temporary Services
, and further information and activity can be found there.