Toistuva kokeilu. Tapaamiset:

The Film Club I
Tapahtui aiemmin: 25 tammi 2017 18:30 — 21:00

The Film Club II
Tapahtui aiemmin: 23 helmi 2017 18:30 — 21:00

The Film Club III
Tapahtui aiemmin: 22 maalis 2017 18:30 — 21:00


Tapahtui aiemmin: 3 touko 2017 18:30 — 21:00


Temporary is closing on 1 September 2017. No further experiments will be scheduled, though you can still pledge Temps as supported experiments may form a starting programme for the post-Temporary project.
Kuvaus:
18:30: Discussing "Freaks" By Tod Browning
Feel free to bring snacks/drinks to share or for yourself! Tea will be offer!
Dear all,
Nur Magazine started the New Year with a stimulating and pleasing event to all the people who live in Helsinki area, keen and interested in movies: "The Film Club".
The meeting will be once a month and we will freely discuss in english about the chosen film on the list.
After the success on January, the Film Club is ready to be back at the end of February.
Please, if you want to join the group, just attend this event or, if you have some questions, send a message to our Facebook page or info@nur.fi
All the meetings will be reviewed in the magazine!
We have also a Facebook group if you want to join! https://www.facebook.com/groups/1752628521731594/?fref=ts
La Chinoise,, Jean-Luc Godard, 1967 - April
Metropolis, Fritz Lang, 1927- May
Roma Città Aperta (Roma, Open city), Umberto Rossellini, 1945 - June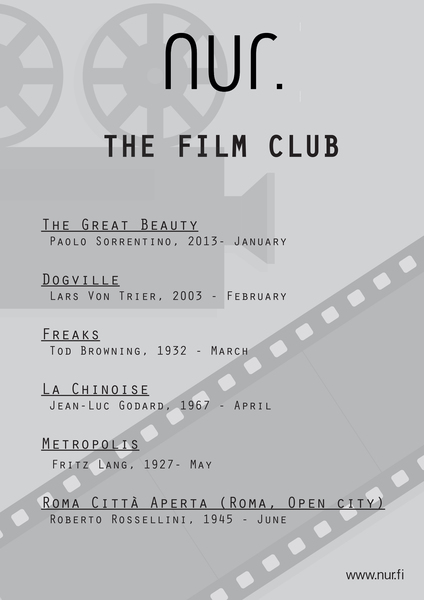 Tavoitteet:
The goal is to get to know deeply important films for cinema history, to compare and discuss different points of view between people from different backgrounds and, of course, to stimulate each other to watch interesting movies.
Aikataulu:
6 times. Fourth time 26th of April. - If not, 3rd of May
Kuinka usein tämä tapahtuu?:
5 tapaamisia ehdotettu
Suunnitellut osallistujat:
All people keen of cinema and/or curious to know more!
This proposal is now archived and can no longer be edited or commented on.
This proposal became the experiment
The Film Club
, and further information and activity can be found there.